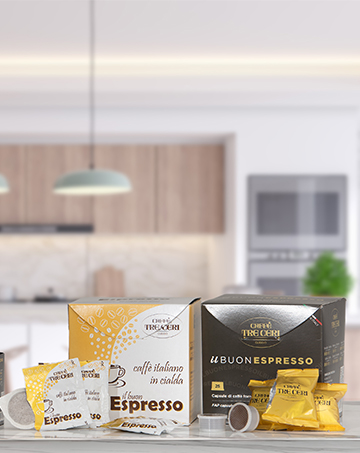 Caffè Tre Ceri lovers choose our products for their family too, thanks to the excellent quality of our coffees.
If you also want to enjoy a delicious coffee at home as well as at the café, try our ground coffee blends for mocha and for espresso each one with an original taste that can satisfy even the most demanding customers.
Our coffee blends come from the best South America and Africa plantations. They are processed with skill and experience directly by the owner of the Torrefazione Tre Ceri company, our expert Master Roaster.
Butm if you prefer the comfort of single coffee portions, check out our pods with compostable filter paper or the capsules.
You can also taste the characteristic aroma of Caffè tre Ceri in capsules compatible with Nespresso or Lavazza A Modo Mio machines.
For a quality choice, we do not operate in the large-scale retail trade. You can buy our products directly in the online shop, at the sales shop inside the Roastery in Gubbio (Pg), Zona Ind.le Padule or through our Dealers.
If you come to visit us to purchase our blends, you can have them freshly grounded and enjoy the beauty of an artisan roasting factory!